Pex Plumbing—an acronym for cross-linked, polyethylene water supply piping. The new piping system used essentially plastic piping to carry water into and through the new home. To connect the plastic (PEX) piping, the piping system also notably used brass fittings and couplers.
WHAT IS THE PROBLEM WITH PEX?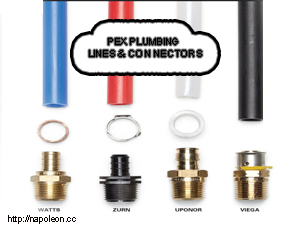 The principal problem is the use of the brass fittings and couplings. Is the use of brass couplings and fittings always bad? No, not if the amount of zinc used to make the brass is less than 15%. If the brass couplings and fittings have more than 15% –say 30% to 33% — of zinc, then the brass—in the presence of water flow suffused with sulfates, carbonates, chlorides, fluoridates and dissolved oxygen — begins to literally disintegrate: i.e., the walls of the brass couplings and fittings—especially on the "hot-water" side– begin to lose their zinc. The process is called "de-zincification."
On October 16, 2006, a Canadian manufacturer named IPEX was first sued in Clark County, Nevada, in a state-based, class-action lawsuit pertaining to the use of the Kitec fittings that had allegedly failed. (Kitec was a plumbing system that had enjoyed great popularity among developers in the mid-1990s.) One of many specification documents that had been obtained during legal discovery in that lawsuit revealed that certain of the brass fittings of the Kitec Composite and Fitting System contained more than 32% levels of zinc. There was a partial settlement awarded of 90 million dollars in favor of the home owners. Often, homes with Kitec® plumbing will have stickers tha say "Kitec" or "Plumbetter." Thus, if you find such as sticker in your electrical panel box, it is likely that your home contains Kitec® brass fittings.
Recently a settlement has been reached with Zurin Pex, Inc. and Zurn Industries LLC concerning brass crimp fittings made of brass that were manufactured or sold between 1996 and 2010. The settlement covers possible fitting leaks, occlusion and damaged caused by alleged corrosion.
The plaintiffs in this case alleged that the F1807 Fiittings were defective and caused or could cause water leaks, which result in damage to property. Zurn denies any wrongdoing but has decided to settle these claims.
Zurn's yellow brass F1807 Fittings (known as QestPEX Crimp System, Qicksert fittings, and Qick/Sert insert fittings) were stamped with "Qpex" and can be located at joints in the plastic pipe. F1807 Fittings are secured to the pipe by copper crimp rings or stainless steel clamps. The F1807 Fittings were used for a variety of applications including, without limitation, hot and cold water distribution in plumbing applications and radiant heating systems in homes, residences, buildings or other structures. Please note that the fittings at issue in this litigation are no longer sold. Zurn stopped selling F1807 Fittings in 2010.
There is also a lawsuit in progress against Uponor's PEX Brass fittings which are alleged to contain a design and manufacturing defect which causes the fittings to fail prematurely, sometimes within months of installation. The Uponor fittings in question will not have the company's name on them. Rather, they will be stamped on the side of the fitting with either "P Pex" or "MB Pex." The stainless steel clamps which hold the pipe onto the fitting may also be stamped with "P Pex" on the side. The fittings are made of brass; plastic fittings made by Uponor are not subject to the failure described above. You are urged to contact us through the form on the right if you have experienced failure of plumbing fittings, even if you are unsure of the manufacturer. – Read More about Pex Plumbing Problems