Home Maintenance Tips
Handy Tips and Advice to Help Home Owners – Barrie Home Inspections
Barrie Home Inspection provides articles from exterior maintenance to attic insulation.  Providing important information with  Tips and Advice which could save you thousands of dollars in un-needed repairs.
Search for a particular maintenance issue or browse our in-depth articles.
Home Inspection
A home inspection is the only protection a home buyer has against un-forseen issues and un-wanted financial expense.  Your Home Inspection covers the exterior, landscaping, electrical, plumbing, heating and a complete inspection of the interior.
Pre-Listing Inspection
Your pre-listing inspection will identify any issues that may arise during buyers  home inspection.  Some issues may become a "Deal Breaker" and you lose the sale.  Also gives you the opportunity to fix all the little issues and will ensure your home shows at its best.
Century Home Inspection
Century homes can have many hidden issues that can be very expensive to repair. As most of these homes have been renovated a number of times, anything is possible.  Asbestos, Knob & Tube wiring and Galvanized Plumbing are some common items.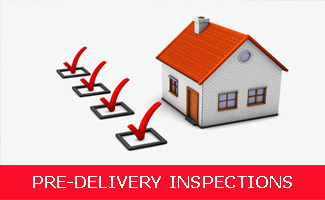 Pre-Delivery Inspection
Most Pre-Delivery Inspections are done before the home is completely  finished.  Defects can range from damaged trusses, poor workmanship, missing ice shield on roof to damaged finishes.  A home inspector can ensure none of these items are missed.
Read our Featured System Articles on Common Home Inspection Deficiencies with pictures from actual home inspections.
Structural Issues are more common than people think.  Any structural modifications in your home require a Building Permit, which will usually require a design from Registered Designer or Engineer.  Structure is necessary for buildings but architecture, as an idea, does not require structure. Every building has both load-bearing structures and non-load bearing portions. Structural members form systems and transfer the loads that are acting upon the structural systems, through a series of elements to the ground. Building Structure Elements include Line (beams, columns, cables, frames or arches, space frames, surface elements (walls, slab or shells)
I have seen structural support walls removed from living rooms and also basements.  Although this may only result in sagging floors there is always the potential for collapse.
Any structural loads of a house must continue down and ultimately end with a foundation which is supported by a footing.  For example in a two storey house the supporting wall on 2nd floor will be right above supporting wall on first floor.  The only exception to this is when roof is supported by roof trusses. Then the load is passed to exterior walls making all the second floor walls, non-supporting.
Many older Century Homes have improper supports for stairwells.  Typically all three sets of stairs will have sagged on many older homes due to lack of support.  There were no building codes or building inspectors when these homes were built resulting in many homes still existing with structural deficiencies.
 Many home owners attempt to install electrical cables and fixtures in their home. While they are permitted to do this the work is required to be inspected.  Most DIY installations are immediately apparent when doing a home inspection.  The most common deficiency is "open grounds" where the positive and neutral wires are reversed.  This could be dangerous for some fixtures which will then have an electrical shock hazard.  In basement renovations this is an immediate indication that no building permit was taken out for project.
Another expensive electrical repair is when a home owner builds a bathroom with the electrical panel installed inside room.  This is not permitted and it will be quite expensive to move either the panel or the bathroom.
Aluminum wiring is considered a negative feature when installed in a home.  Although it is still legal most insurance companies will not insure a home with aluminum wiring.
Unprotected electrical cables are quite common on both the exterior and interior of homes.  Any electrical cable less than 5 feet above ground requires protection from mechanical damage.  Typically conduit or BX cable is used for this requirement.
Your homes plumbing type and condition can be very important to home buyers.  Kitec plumbing was used in many homes in Canada and was the target of a huge class action lawsuit. If you have Kitec plumbing in your home it is almost guaranteed to fail at some point.  Some insurance companies will not insure a home with galvanized plumbing, as it is long past its serviceable life expectancy.  Some older homes still has lead plumbing drains and possibly lead supply lines which have not been upgraded by the municipality.  A lot of older homes will also have sump pits installed but no weeping tile protecting the home.
Any older home has often been renovated a number of times.  Even new homes will typically had an unfinished basement renovated for added living space.  Many inspection deficiencies are located in the basement where someone has added walls, installed plumbing and electrical fixtures without a building permit.   The issue here is that these systems were installed without being inspected and are now mostly hidden.  Items such as using romex cable in steel stud walls without using proper attachments or plumbing fixtures not being properly vented.  Improperly installed electrical cables and fixtures are another big issue with Do it Yourself handyman renovators.
WETT Certified Inspections for wood stoves, fireplaces, fireplace inserts and pellet stoves.   Level One Wett Inspection meets the requirement of your Insurance Company.  We inspect your chimney, firebox, clearances to combustibles and look for any visible buildups of creosote.  Annual chimney cleaning is always recommended and if using as alternative heating source a minimum of 2 cleanings per year is recommended.  WETT Inspection report is issued at the time of inspection.
Why Choose Barrie Home Inspections
Satisfaction Guarantee
We offer a 100% Money Back Guarantee on all our inspections.  This guarantee is good for 30 days after you take possession.  This allows you to become familiar with all its systems.
A One-Stop Shop
Every home inspection comes with Free Thermal Imaging.  We also provide Asbestos Testing, Mould Testing and Air Quality Testing.  WETT Inspections available for $75.00 with Inspection.
Free Consultation
Barrie Home Inspections is available by phone for any questions you may have concerning your existing home or a home that you may potentially buy.
We are Available 7 Days a Week
Certified Building Code Official and Certified Master Inspector.  Over 8,000 home inspections completed.  We offer professional home, commercial, industrial and apartment building inspections.